You have painted along with Bob Ross for several episodes now and might even have tried fancy stuff using black gesso or contact paper. Your girlfriend/boyfriend is threatening to kick you out if you 'put one more stupid mountain painting on the living room wall'. Your big two-inch-brush is losing its last hair and you feel like it is time for you to move on from 'The Joy of Painting'.
While Bob Ross is a fantastic source of information for first time painters most of us feel like painting something else after a while. Armed with Bob's basics of mixing colors, creating the illusion of distance, and applying highlights (remember: thin paint sticks to thick paint) there is nothing keeping you from venturing further into the realms of painting.
Since most of us already have the tools recommended for the Bob Ross technique we will take a look at some options in oil painting, so you don't have to go out and buy new equipment. Or at least very little.
Kevin Hill
Kevin Hill is a young painter from California. He started painting by watching painting shows on PBS (most likely 'The Joy of Painting' with Bob Ross) when he was 15 years old, and has since become a master of the wet-on-wet-technique which he developed further. Kevin is not only a great painter, but also a wonderful instructor whose soft voice and friendly demeanor very much reminding us of Bob Ross himself.
Painting along with Kevin feels like the next logical step to take once you have mastered Bob's technique. He sticks with the same nature themes and colors (which might annoy your significant other), but paints with much more detail. Most of the brushes Kevin uses should already be in your toolbox, but you might want to stock up on his beloved filbert brushes.
Today Kevin has his on painting show on PBS called 'Paint with Kevin'. In each 30-minute episode, he provides instruction in a calm, reassuring manner and coaches viewers as they expand their painting skills.
Shorter versions of the episodes of his show and livestreams can be found on his YouTube channel or his website.
Dave Usher
Dave Usher is a painter from the United Kingdom. On his YouTube channel he focuses on oil, acrylics and watercolor painting. With over 40 years of experience Dave certainly knows what he is doing and in the several videos he uploads each week he proves to be a great teacher as well.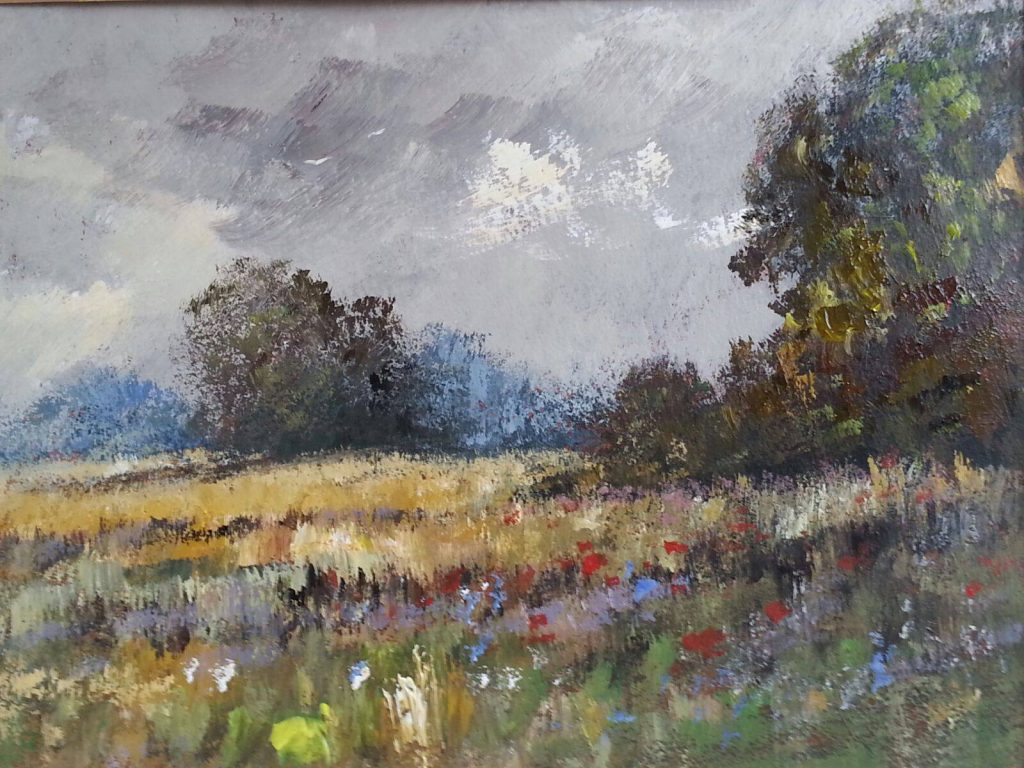 While Kevin Hill paints his nature scenes with more detail Dave Usher does it in a more impressionistic way, often using nothing more than a palette knife. Painting mainly motives of the british countryside most of his paintings are done in thirty minutes or less. Since Dave paints in three different mediums you might have to search a little bit until you find an oil painting.
Link to his YouTube Channel.
Yourself
If you have enough of following along with videos of other people painting here is an idea for you: just look through your smartphone, camera or photo books for motives you would like to paint and do it. Even if you have never painted a cityscape or a bowl of fruit before it is a great experience and you will learn a lot from it. Just be careful with paintings, as some people might get offended by your first try. Maybe stick to self portraits for the beginning.
Know another great painter to follow along with, or want to show us your own creations?
Send us a mail at paintings@twoinchbrush.com or visit us on Twitter.