Bob Ross has painted several thousand paintings in his lifetime. His hit TV show "The Joy of Painting with Bob Ross" teaches you how to do 403 of them in just as many episodes over 31 seasons. But have you ever wondered which Bob Ross paintings have been painted the most by his fans?
In 2020 community members on TwoInchBrush.com have submitted just a little under 4000 Bob Ross recreations. (And a little over 1750 original creations, but that's a story for another day). This made us ask: "Which Bob Ross paintings are painted the most? And what makes them stick out over all the rest?"
The List
So without furter ado, here's our list of the top five most submitted Bob Ross paintings from "The Joy of Painting" in 2020:
#5 Tropical Seascape – Season 12 Episode 9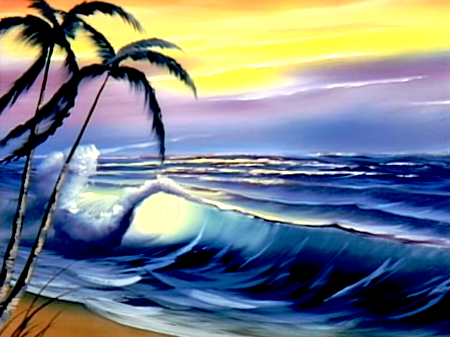 Being one of the most unusual, yet visually appealing Bob Ross paintings it's no wonder that Tropical Seascape made it into this list. This painting breaks every mold: big palm trees instead of happy little trees, breaking waves instead of mighty mountains, and a dramatic colorful sky devoid of any fluffy old clouds.
While other paintings stray from the classical Bob Ross formula none of them do it while looking this aesthetically pleasing.
View 'Tropical Seascape" in our database.
It's only fitting that we showcase a submission that also leaves the classic way of painting Bob Ross landscapes behind: our community member 'bob_ross_watercolors' has made it their mission to recreate Bob's oil paintings with watercolors. A medium that could not be more different to paint with than oils.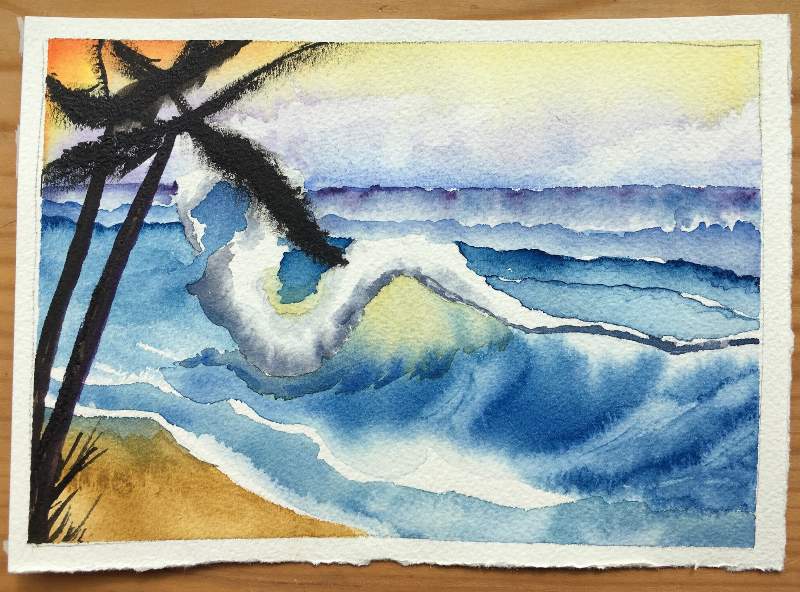 #4 Sunset Aglow – Season 26 Episode 12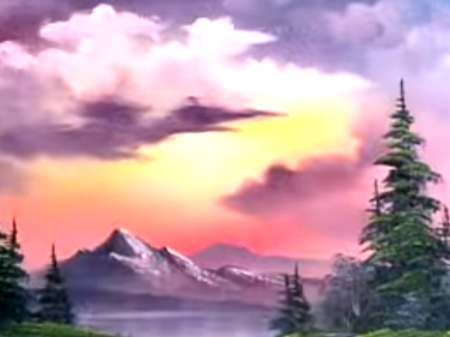 This one is a step back to the tried and tested Bob Ross method. Some mountains, a river or lake, and some big old evergreens in front. What's not to love?
View 'Sunset Aglow' in our database.
What makes 'Sunset Aglow' stand out from the rest is once again a dramatic sky. Not only is it one of the few paintings featuring a multi-colored gradient but Bob also goes all out with his clouds here. Teaching his viewers how to paint a beautiful evening sky using different colors of clouds is just one of the reasons that make this painting one of the most painted ones in 2020.
Community member 'pointyfeatures' really pushed their clouds to the limit and created a sky full of motion and texture.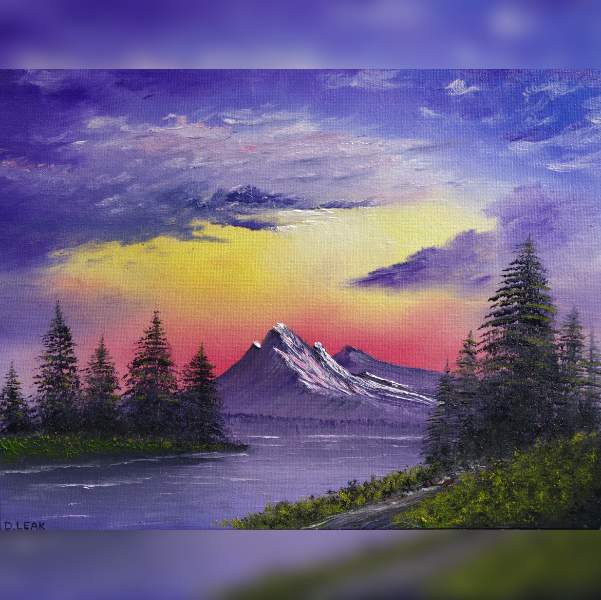 #3 Mountain Summit – Season 13 Episode 10
The quintessential Bob Ross painting. When you're thinking 'The Joy Of Painting' you're thinking of big mountains, colorful bushes, dark trees, and fluffy clouds. 'Mountain Summit' has it all.
Combining every single one of Bob's favorite subjects this painting has earned its place in our top three with ease. No wonder it's a fan favorite!
View 'Mountain Summit' in our database.
After starting with the special 'The Joy of Painting' beginner-episode 'The Grandeur of Summer' our community member 'dracula' chose 'Mountain Summit' as his second Bob Ross painting ever. And just look at how fantastic that turned out! Makes you wonder if you can do that too, hm? (Spoiler: you can! Our tip: the Bob Ross Master Paint Set gives you the best bang for your buck on painting supplies.)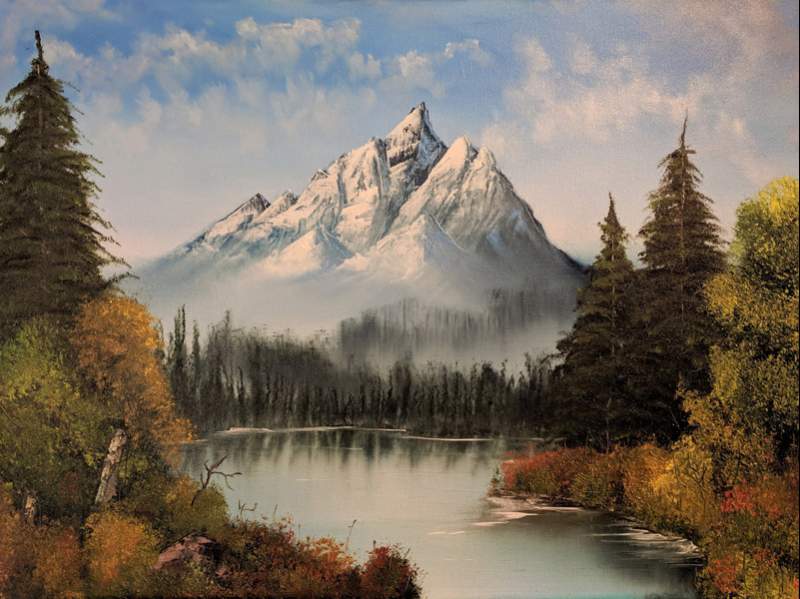 #2 Ocean Sunrise – Season 5 Episode 6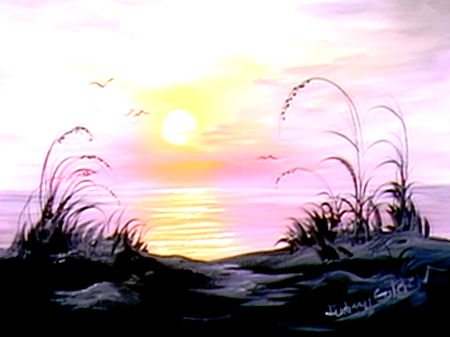 Now that's an interesting one: Number two on our list of the five most painted Bob Ross paintings isn't painted by Bob Ross! For this episode Bob had his friend Audrey Golden visit the studio.
View 'Ocean Sunrise' in our database.
Not being painted by Bob makes 'Ocean Sunrise' look quite different from the rest of the paintings done on the show. While Bob lets his brushes do all the work and doesn't paint details at all (spare a few small limbs) Audrey teaches her viewers how to paint using a liner brush.
User 'KJ' painted along with acrylics and put their own spin on the beach scene. Using acrylics instead of oils made for quite a challenge in blending the colors, but we think the harsher lines create a fantastic atmosphere!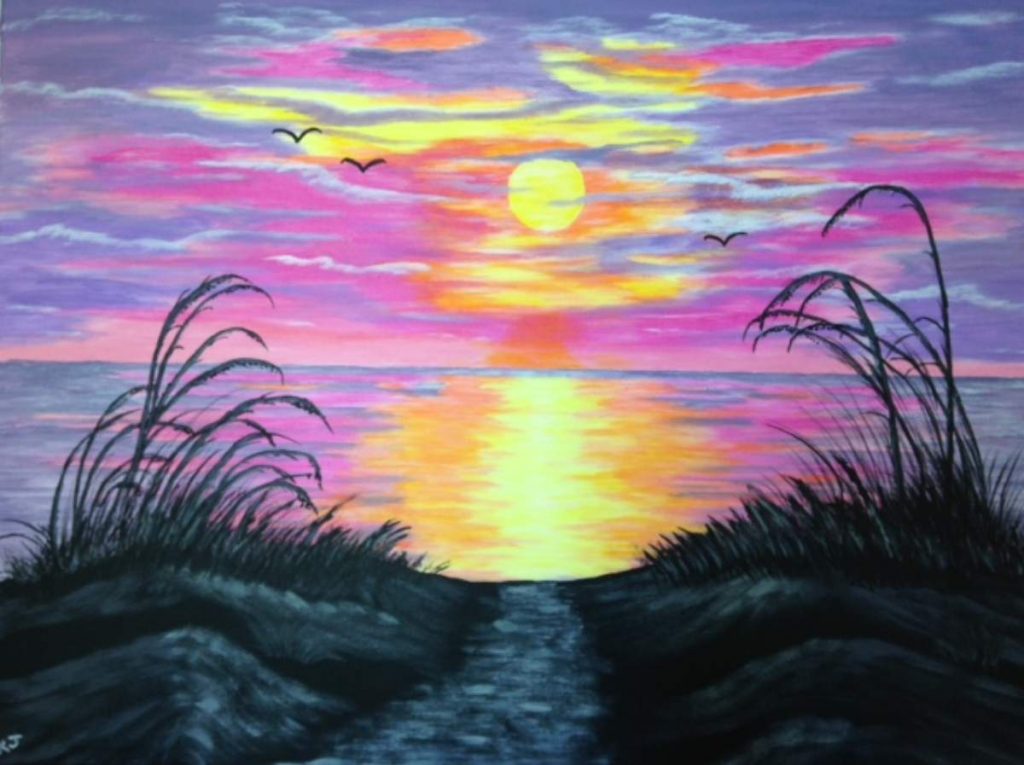 #1 Northern Lights – Season 8 Episode 13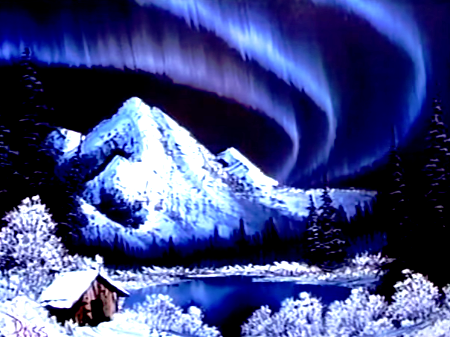 Featuring one of the world's most beautiful natural phenomenons – the Aurora Borealis, also known as the Northern Lights – it's no shock that this painting secured the top spot. Being painted almost 25% more than the second place 'Ocean Sunrise' is dominating our charts!
While most of the painting is a pretty basic winter scene the northern lights make this one of the most beloved – and most painted – episodes of them all. Bob teaches us a great way to create colorful swirly skies with just a little bit of color over a dark painted canvas.
We'd love to showcase a version of the aptly named community member 'Lightsnow' for this one. Not only does it show great skills with their brushwork but it also uses one of Bob's most important lessons: Don't just follow along, take his technique and make it your own!