Bob Ross' son Steve Ross was a frequent guest on the hit TV show "The Joy Of Painting". After his father's death, Steve vanished and was not seen in public for years. Until very recently. Where is the son of Bob Ross now?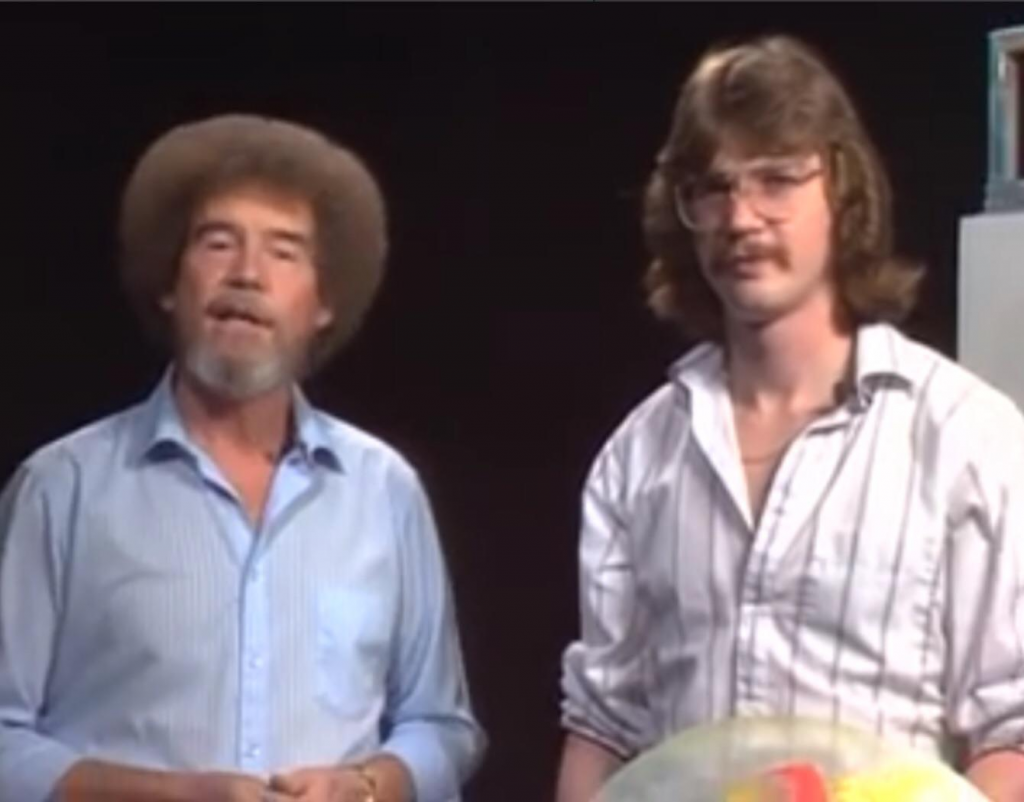 Know for his quick-witted humor and the charisma he inherited from Bob Ross he quickly became a fan favorite. While his dad didn't pass the trademark permed hair down to Steven he definitely received a lifelong love for painting from his late father.
Steve, The Son Of Bob Ross
Steve was born on the 1st of August 1966 as the child of Bob Ross and his first wife Vivian Ridge. When the couple separated in 1977 Bob took sole custody of his son Steve.
Bob's life was made up of three things during these times: his career in the US Air Force as a drill sergeant, raising his son Steve, and his passion for painting. Stationed in Fairbanks, Alaska Bob would spend his free time painting and selling Alaskan-themed landscape paintings.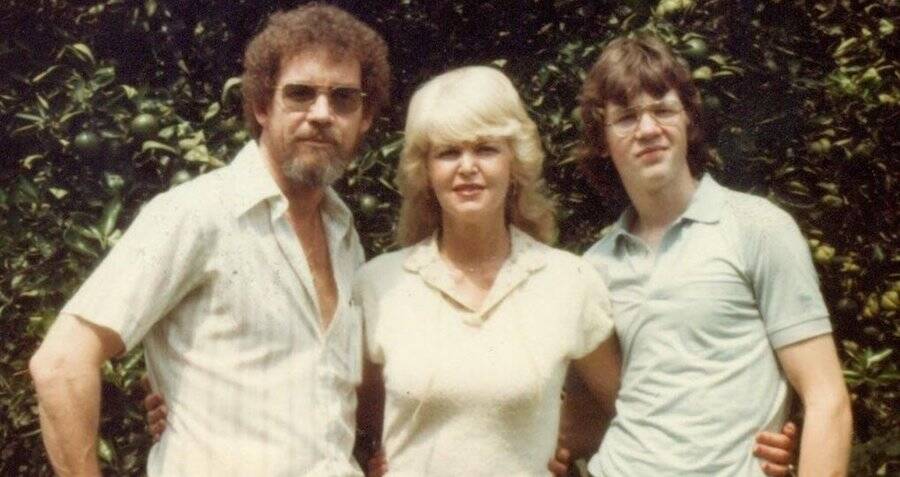 It was during these times that Bob Ross started to develop his own technique that allowed him to create paintings in just a few short minutes. This seed would later grow into his art supplies company Bob Ross Inc and the well-known TV show "The Joy of Painting".
But this wasn't the only thing that grew during these times. Bob and his son Steve became very close in these years. Steve not only inherited his father's charm and soft voice but also his love for painting. A love that would never end, despite severe struggles later in Steve's life.
A few years later Bob met his instructor and mentor Bill Alexander during a painting workshop. The German painter came to America after the war and stood in stark contrast to Bob. A few inches shorter than Bob's 6'2 and full of aggressive energy, unlike Bob's chill demeanor.
Leaving His Son Steve Behind
Bob Ross quickly realized that Bill's wet-on-wet technique was the missing piece to his own development and saw an opportunity. Bob left his son Steve with his second wife Jane, left the Air Force, and moved to Florida to join Bill's company as a traveling salesman and painting instructor.
While Steve was stuck at home Bob toured the States and perfected his painting and showmanship skills. He honed the creation of his "almighty mountains" and "happy little trees". Until he met his later business partner Anette Kowalski, which led to the creation of Bob Ross Inc and his very own TV show.
Steve Ross on "The Joy of Painting with Bob Ross"
The first season of "The Joy of Painting with Bob Ross" aired in 1983. It was also during this first season of the show that Steve Ross made his very first appearance on TV.
Bob's son Steve was still more of a child than a man when the last episode of the first season was filmed. During this special Q-and-A style episode, adolescent Steve helped his father by reading questions from viewers and fans of the show to him. Bob Ross answered them all while painting a complete landscape picture, demonstrating several techniques and clarifying his steps.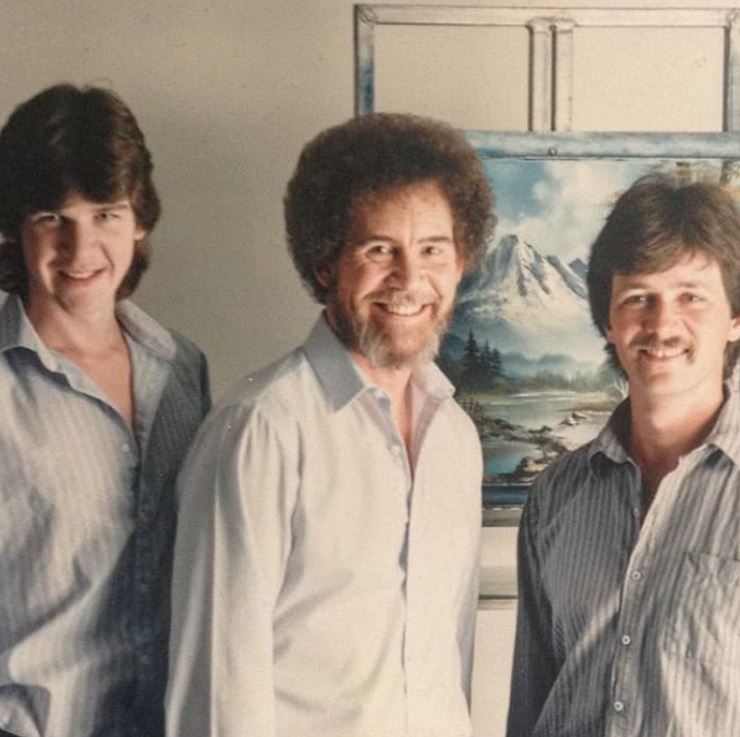 But don't be misled by Steve's youthful appearance. When the episode aired he was 17 years old and had already painted in oil for several years. An almost fully qualified painter by himself he had sold his first painting by the age of twelve. And if Bob Ross is to be believed his son Steve made a "happy little buck" from their shared hobby, now turned business.
Watching Steve Grow Up
It's rumored that Bob Ross always said that Steve was a better painter than himself. It didn't take long until Bob asked his son to host his own episodes of "The Joy of Painting". And Steve, full of admiration for his father, followed his call.
Of course, this admiration goes both ways. Every time Steve visits the studio where the show is filmed (it has now moved to Muncie, Indiana), Bob seems to glow with pride when he introduces his son.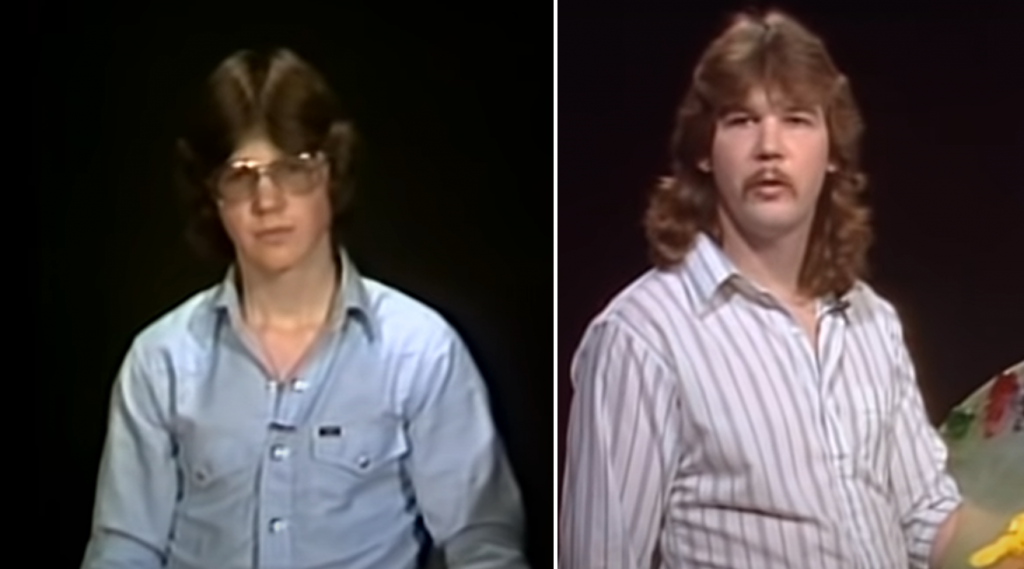 Steve returned for his second visit to the "Joy of Painting" studio for the ultimate episode of season three. Having grown in size, ability, and most of all, confidence, the father-son-duo Bob and Steve Ross paid homage to their first Q-and-A-episode together. Only this time, Bob asked and Steve painted.
What followed next were eleven more appearances as a guest painter on the TV show, over just as many seasons. But when Bob invited Steve in the following years they didn't share the spotlight anymore. Steve, a talented and dedicated painter in his own might, was now painting landscapes, explaining techniques, and entertaining viewers all on his own.
Steve Ross – A Certified Bob Ross Instructor
And boy, did he entertain! Known for his quick humor and double entendres he quickly became a fan favorite.
"Pound that paint in real good"
""it can be dirty, it doesn't have to be clean. Oh yeah, sure, tell me more"
"It's getting bigger all the time. Oh no, it's huge. Look at that, it's a monster!"
Following in his father's footsteps as a landscape painter and oil painting instructor Steve became a member of his father's company. He toured and gave lessons as a Certified Bob Ross Instructor (CRI), spreading the Joy of Painting throughout the States.
Everyone was expecting Steve to take over the reins of the Bob Ross company. But sadly, after Bob Ross' death, everything came different.
Bob Ross' Death and Steve's Depression
When news broke in 1995 that Bob Ross passed from lymphoma his fans were shocked. Always being very secretive about his private life Bob had told nobody outside a selected small circle about his condition.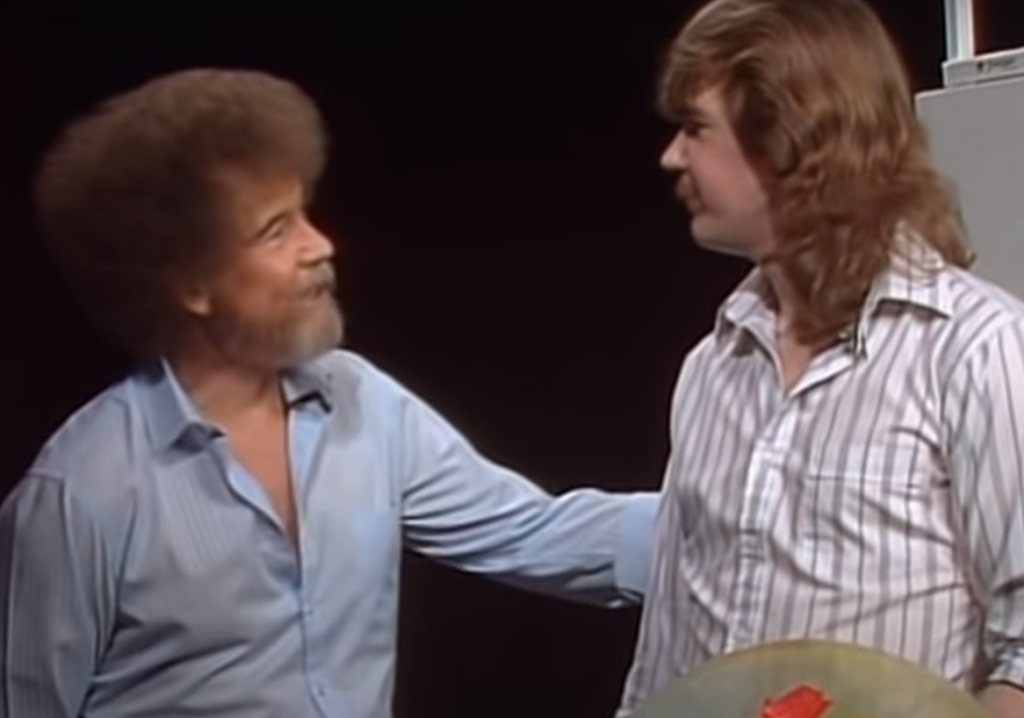 Once the news settled people were wondering what would happen to "The Joy of Painting" and the Bob Ross company. Surely Steve, the son and obvious successor to the oil painting throne would take over. Right?
But that didn't happen. "The Joy of Painting" did not return for a 32nd season. And while the painting supply selling machine that was Bob Ross Inc was well oiled (pun intended) and running Steve didn't return to the public either.
Is Steve Ross Still Alive?
For a long time, nobody knew what happened. The inner workings of Bob Ross Inc and the struggles for Bob's succession were kept under cover. All people knew was that Steve Ross had vanished and was nowhere to be found.
When Bob Ross returned to the collective hivemind of the internet in 2015, so did Steve. There were rumors that Steve had died, that he wanted nothing to do with painting and that he changed his name because he no longer wanted to be associated with Bob Ross at all.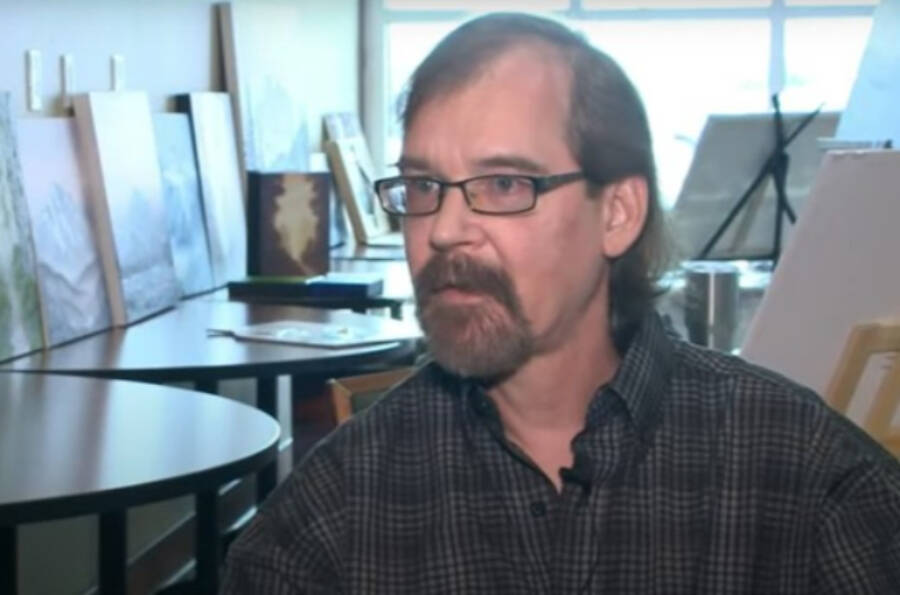 After a while, people found the truth on social media. One of Bob's oldest friends had commented on his private Facebook page that he occasionally talked to Steve. Apparently, he was doing "software work" now and moved to New York. All in all, he was "alive and well".
Struggles after his fathers's death
Steve spent his father's last months and weeks at his side. He moved to Florida to be with him and help out during these difficult times. To make matters even worse there were lots of arguments between Bob and his business partners. And Steve was caught in the middle of it all.
While Bob naturally wanted Steve to take over after his passing, the other partners at his oil painting supply and media company did not. What followed were a lot of arguments, but the case was clear. Contracts were already written and signed years ago that ensured that Steve would be locked out of Bob Ross Inc.
Steve loved and admired his father a lot, but this was the straw that broke the camel's back. After Bob died and he was essentially divorced from his father's legacy by ruthless business practices Steve sunk into a deep depression.
Landscape painting and teaching classes were a big part of the connection between Bob Ross and his son Steve. But with Bob gone, Steve just couldn't do it anymore. The talented painter and beloved teacher turned his back on oil painting to avoid the paint all these memories caused him.
Steve said that he once considered steering into oncoming traffic to "end the pain, once and for all" during these difficult years. He kept driving. What followed were long years of isolation, staying away from the media, and only painting and teaching very rarely to make ends meet.
Where is Steve Ross now?
Steve unexpectedly resurfaced in 2019. After 25 years of radio silence, he teamed up with Dana Jester to hold landscape oil painting workshops. Only this time, he wasn't Steve Ross, the son of Bob Ross. He was Steve Ross, an artist and oil painter on his own.
Dana Jester is one of Bob's oldest friends. He hosted three episodes of "The Joy of Painting" at Bob's invitation. As one of the earliest Certified Ross Instructors, he is a master in The Bob Ross wet-on-wet-technique.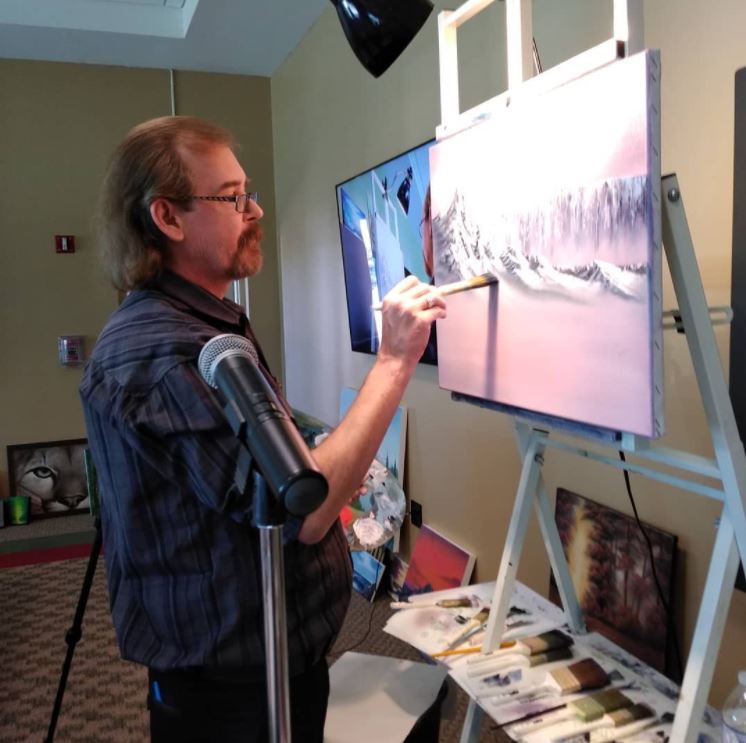 While Steve stepped back into the open with these workshops the general public knows the now over-50-year old from something else. In 2021 Netflix released "Bob Ross: Happy Accidents, Betrayal and Greed". This documentary tells the story of Bob's rise to fame and the struggles and fights that followed his untimely deaths.
It also explains why Bob's son Steve did not take over the company and TV show. Let us warn you: it's not pretty.
Painting Classes With Steve Ross
Word is that Dana Jester convinced Steve to join forces and go back on the road to host painting workshops. They held their first workshop in Winchester, Indiana in 2019. The four-day workshop was held in the fellowship hall of Faith United Methodist Church.
Neither Steve nor Dana expected the huge number of people that showed up. While they knew the number of registered workshop attendees, they did not know about the other fans. On the first day, the doors of the venue were swarmed with people giving Steve a warm welcome back into the public eye.
Following the legal battles with his late father's company, Steve is not affiliated with Bob Ross Inc anymore. While that means he is not a Certified Ross Instructor anymore, he mastered the technique at an early age and is a wonderful teacher. The same goes for Dana.
If you want to paint with Bob's son Steve Ross you should follow Dana Jester on his Instagram. While we weren't able to find a list of upcoming workshops on the internet Dana always announces new dates for workshops on his social media.
The events usually run for four days and cost $125 per day and attendant. You could always contact them directly via email at steverossdanajester (at) gmail (dot) com.
Buying A Steve Ross Painting
This is another thing where Steve follows directly in Bob Ross' footsteps. None of the two painters is a big fan of selling their artworks. Steve does not have a gallery or shop where people can easily buy original Steve Ross paintings.
The most effective way to still get your hands on a Steve Ross original is eBay. From time to time you can find paintings by Steve there. But be careful: a lot of the paintings sold on eBay are "Steve Ross Style Paintings", and not "Steve Ross Original Paintings".
This means that the painting is done by someone else in Steve's style. The same rings true when buying original Bob Ross paintings. A lot of recreations, not many original paintings.
But that's exactly what Bob wanted. He didn't believe in selling his artworks because he wanted people to pick up brushes themselves. We believe that this is also Steve Ross' philosophy.
So stop looking to buy a Steve Ross painting, grab some brushes and oil paints and paint one yourself! It's what Bob and Steve would want you to do!